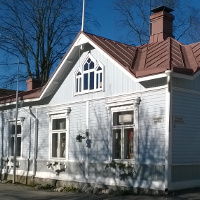 Ekenäs Second Hand Shop, Drottninggatan 2
Open:
Mon-Fri 10:00-16:00,
Thur 10:00-18:00,
Sat 10:00-14:00
Hanko Second Hand Shop, Esplanaden 88
Open:
Mon-Fri 10:00-16:00,
Sat 10:00-14:00
Contact:
050-4022223 (Fredrik Martin)
Welcome to Betesda Second Hand Shop
You are warmly welcome to come and visit us at Drottninggatan 2. We are located right next to our church in the centre of Ekenäs town. Our opening hours are: Mondays, Tuesdays and Wednesdays from 10-16. Thursdays 10-18 and Saturdays from 10-14.We gladly accept donations in the form of clean clothes, furniture, paintings, books, all kinds of non-broken things etc. We will gladly help you out with transportation.
Ekenäs Second Hand Shop is an old-style flea market. There are six old buildings with different sections for different items. For example – a section for small items, a clothes section, a furniture section and a section for drawings and paintings. We also have our own little book cottage filled with lots of old books. The flea market also has its own prayer chapel which is open for prayer and reflection.
Our purpose is to support the vision of Betesda Church with its mission work both nearby and afar. Right now we are supporting missionaries in Africa, Kosovo, the Middle-East and Europe. We have five godchildren that we support in India. We are also supporting children and youth work in the Pentecostal church and other different projects, helping realise the development of social work in our town. The second hand shops also engage long-term unemployed people with different work activities.
If you wish to know more about our missionary work, please visit our mission page.