Looking to make new and interesting friends? New to the region and not sure where to start? Want to meet people from around the world? Welcome to IFG (International Friendship Group)!
Meet new people and make new friends … All are welcome from all faiths or no faith
Contact:
IFG Facebook page
IFG is all about having fun and helping each other along where we can. The main aim is to meet new people and make new friends. To help break the ice we provide food and some small activity or point of conversation to help get people chatting.
What do we do? We start each meeting with everyone introducing themselves for new members (so no need to worry if you forgot the name of someone from the previous month!) and then we have food with tea/coffee. Activities vary from meeting to meeting, but are not anything to be afraid of! Sometimes we have logic puzzles left on the tables for people to figure out together, other times we have guessing games or quizes, but always done as teams/groups so as to encourage co-operation and talk between people. If we are outdoors having a barbeque we might have outdoor games like badminton for those who want to play them, but nobody is forced to take part in any physical activites. The aim is always that people enjoy themselves and get to talk to different people.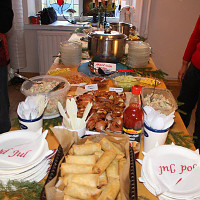 When? We meet once a month for Sunday lunch at two o'clock. To find the latest information about the date for the next meeting and any time changes please see the IFG Facebook page.
Where? Most meetings are held at Betesda Church's café (ground floor, below the church). During the summer, for as long as the weather permits, we like to meet outdoors. Details of any different locations for summer outdoor meetings (e.g. the beach) are posted on Facebook for the following month's meeting.
Which Language? Many of those who come speak either Finnish or Swedish as a second language, and some do not speak either. Consequently, we conduct meetings mostly in English as we have found this to be the most commonly shared second language. However, all are welcome to speak whichever language they like with each other. Feel free to join us just to practice your language skills if you like!
Note from IFG: The International Friendship Group is not a religious group and does not include a religious programme. All are welcome from all faiths or no faith. We are very greatful to Betesda Church for kindly allowing us to use their facilities. Information in English about Betesda Church.